Duncan Morter is a multi-instrumentalist and is responsible for producing the vast majority of tracks you can hear on this site in his Cottonriff Studios, near York, playing most of the instruments. He's also a singer/songwriter and has penned many-a song including several with Kris, some of which are featured on the playlist.

As co-arranger with Kris, Duncan is invaluable as 'Musical Director' of the band.

Live he can cover lead or bass guitar, keyboards, or (at a push...) drums!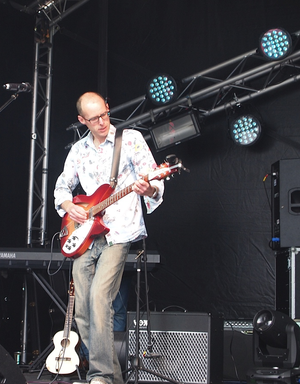 When writing, 
Duncan usually finds a melody and asks Kris to develop the lyric idea and perhaps write a middle eight. Morter-Wilkins collaborations like this include: 
The Answer (Shangri-La) 
Looking Both Ways 
Pictures 
Postcards 
See The Love 
Slow Down 
Imagine Peace 
Grey Water 
Hoegaarden 
Thirty Years Ago 
Duncan also gets a credit on the Catt-produced Christmas Day because Kris brought his guitar solo back, vocalising it as a counter-melody at the end of the song.